The Slow Cooker Buffalo Chicken was one of the top things I was looking forward to making once I had figured out how to make homemade ranch seasoning for my own chicken.
It is delicious to slow cook chicken that is spicy, tangy, rich, and tender at the same time, and it can be used in many different ways. This insanely easy and delicious shredded buffalo chicken can be used on a variety of dishes.
Here's a complete guide on how to use it, so don't miss it! You can find a list of ways to use it below, so don't miss out on it! In my opinion, this is something that you will want to make over and over again throughout football season and the holiday season in the future.
The Apronese recipe is below for you, in detail and with pictures for easy follow.
Buffalo Sauce: What Is It?
In case you aren't familiar with Buffalo Sauce, you need to know that it is a combination of hot sauce (typically Frank's Red Hot Sauce) and butter that results in a very spicy, tangy, and slightly rich sauce which can be used for many purposes, including coating fried chicken.
As an added bonus, we have added ranch seasoning mix to this slow cooker buffalo chicken, which is a delicious combination of buttermilk powder, herbs, and spices that will give you a taste that will please any palates.
A little bit of ranch seasoning adds a huge burst of flavor to the sauce and even makes it something of a creamy sauce, so it's beyond delicious.
How to Choose a Hot Sauce
In addition to Frank's Red Hot Sauce (which is normally used for buffalo sauce), you can also use any other vinegar-based sauce that has a cayenne flavored taste for this recipe. I used the ALDI version of Frank's and I found it to be excellent.
Is It Possible to Substitute Ranch Mix?
My recommendation would be to avoid skipping the ranch seasoning mix if possible, since it really adds a lot of flavor.
Alternatively, you can use one packet of store-bought ranch seasoning in place of the ingredients listed below if you do not have the ingredients to make your own ranch seasoning mix. In the event that you do not have buttermilk powder and want to use your own herbs and spices, that will still taste great, just a little less rich.
Buffalo Chicken in a Slow Cooker – How to Use It
So here's the fun part. After you've shredded the buffalo chicken, the possibilities are endless. Here are a few ideas for how you can use this delicious chicken:
The Buffalo Chicken Sandwich or Wrap can be prepared with either a bun or tortilla, coleslaw, pickles, ranch dressing, and buffalo sauce
As an addition to nachos, you can serve this on tortilla chips with lettuce, grated carrot, and ranch dressing drizzled on top
A great way to make a buffalo chicken dip is to stir cream cheese into shredded chicken until it melts, making it a super creamy dip.
If you would like to make a quesadilla, fill a tortilla with the chicken, Monterey Jack shredded cheese, then toast it in a pan on the stovetop.
Salad recipe: pile the chicken meat on top of a crisp iceberg lettuce leaf, and top with chopped celery, shredded carrots, and a blue cheese dressing.
Taking it to the next level, you can add it to a pizza with white sauce, topped with some mozzarella, and drizzle a little ranch dressing over the top after it's been baked.
The very thought of typing all of that out really makes my mouth water. It's seriously so good that my mouth is watering just reading it.
Slow Cooker Buffalo Chicken
There's nothing better than tender, juicy, tangy, and rich buffalo chicken on sandwiches, nachos, salads, pizza, and more! Perfect for sandwiches, nachos, salads, and more.
Author: Adapted
Prep Time: 
10
mins/
Cook Time: 
4
hrs/
Total Time: 4 hrs 10 mins
Servings: 8 (½ cup each)
Ingredients
Ranch Seasoning*
2 Tbsp buttermilk powder ($0.15)
1/2 tsp dried parsley ($0.05)
1/4 tsp dried dill ($0.03)
1/4 tsp onion powder ($0.02)
1/8 tsp garlic powder ($0.02)
1/4 tsp lemon pepper ($0.02)
1/8 tsp sugar ($0.01)
1/8 tsp salt ($0.01)
1/8 tsp freshly cracked black pepper ($0.01)
Buffalo Chicken
12 oz. hot sauce ($2.19)
2 lbs. boneless, skinless chicken breasts ($9.53)
4 Tbsp butter ($0.40)
Instructions
It is very important that you combine the ranch seasoning (buttermilk powder, parsley, dill, onion powder, garlic powder, lemon pepper, sugar, salt, and pepper) with the hot sauce in a bowl.
It is recommended to use a slow cooker with a capacity of three quarts or more. To prepare this dish, place the chicken breasts in the bottom of the slow cooker. Cut the butter into chunks and place the butter over the chicken. Pour the hot sauce mixture on top of the chicken.
Cook the chicken in the slow cooker, covered, for four hours on low heat. After four hours, shred the chicken with two forks using the marinade. (If the chicken is not yet tender enough to shred, cook it for another few minutes).
As a dip for crackers and chips, the shredded chicken and sauce can be served as a filling for sandwiches, quesadillas, nachos, salads, or even on top of bread for sandwiches.
*Alternatively, you can use a store-bought packet of ranch seasoning in place of the homemade seasoning mix, if you wish.
Nutritional
Serving: 0.5 cup ・ Calories: 191 kcal ・ Carbohydrates: 2 g ・ Protein: 25 g ・ Fat: 9 g ・ Sodium: 1350 mg ・ Fiber: 1 g
The nutritional values shown here are only estimates. Please see our nutrition disclaimer.
Equipment
Our equipment section contains affiliate links to products we use and love. As an Amazon Associate, I can earn commissions on qualifying purchases.
How to Make Slow Cooker Buffalo Chicken – Step by Step Photos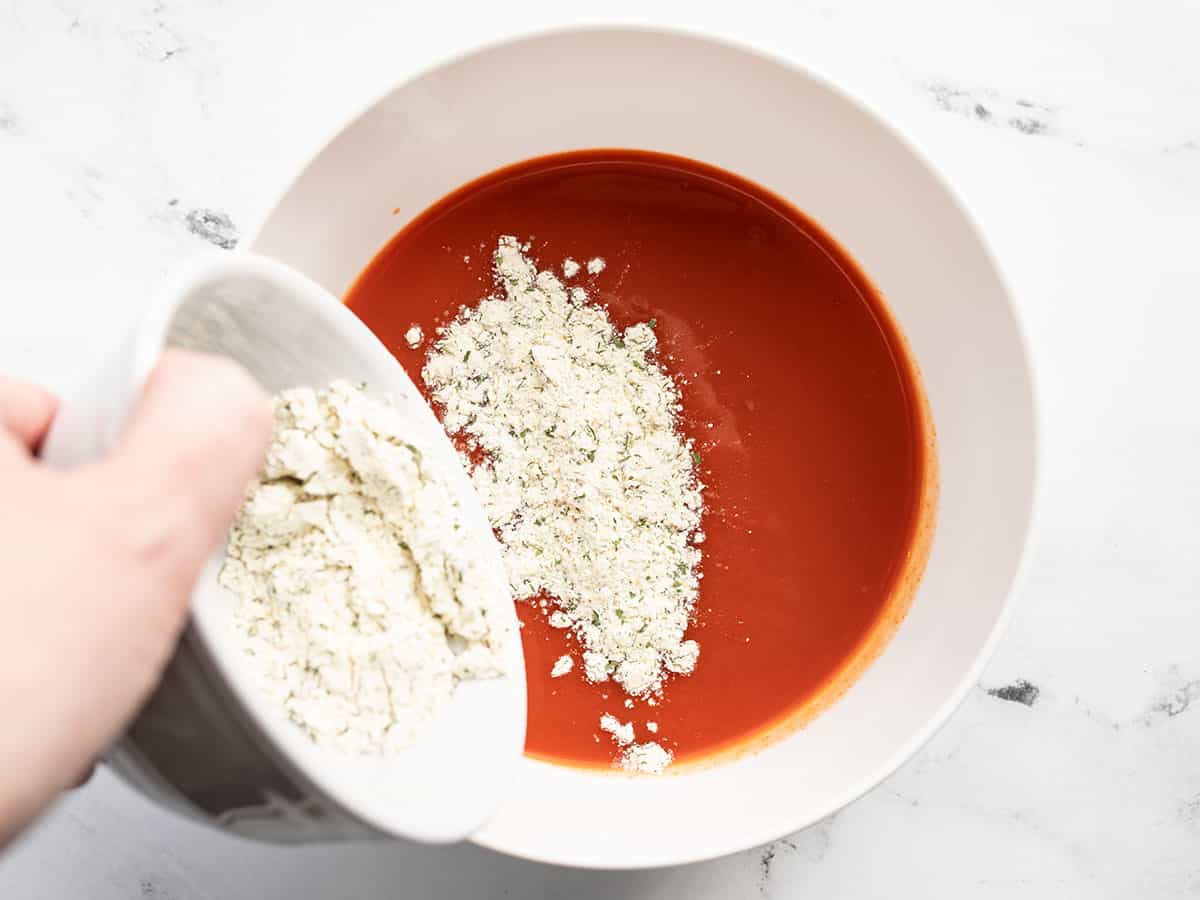 This ranch seasoning can be made up of two teaspoons of buttermilk powder, 1/2 teaspoons of dried parsley, 1/4 teaspoons of dried dill, 1/4 teaspoons of onion powder, 1/8 teaspoons of garlic powder, 1/4 teaspoons of lemon pepper, 1/8 teaspoons of sugar, 1/8 teaspoons salt, 1/8 teaspoons pepper, and one 12-ounce bottle of vinegar-based hot sauce.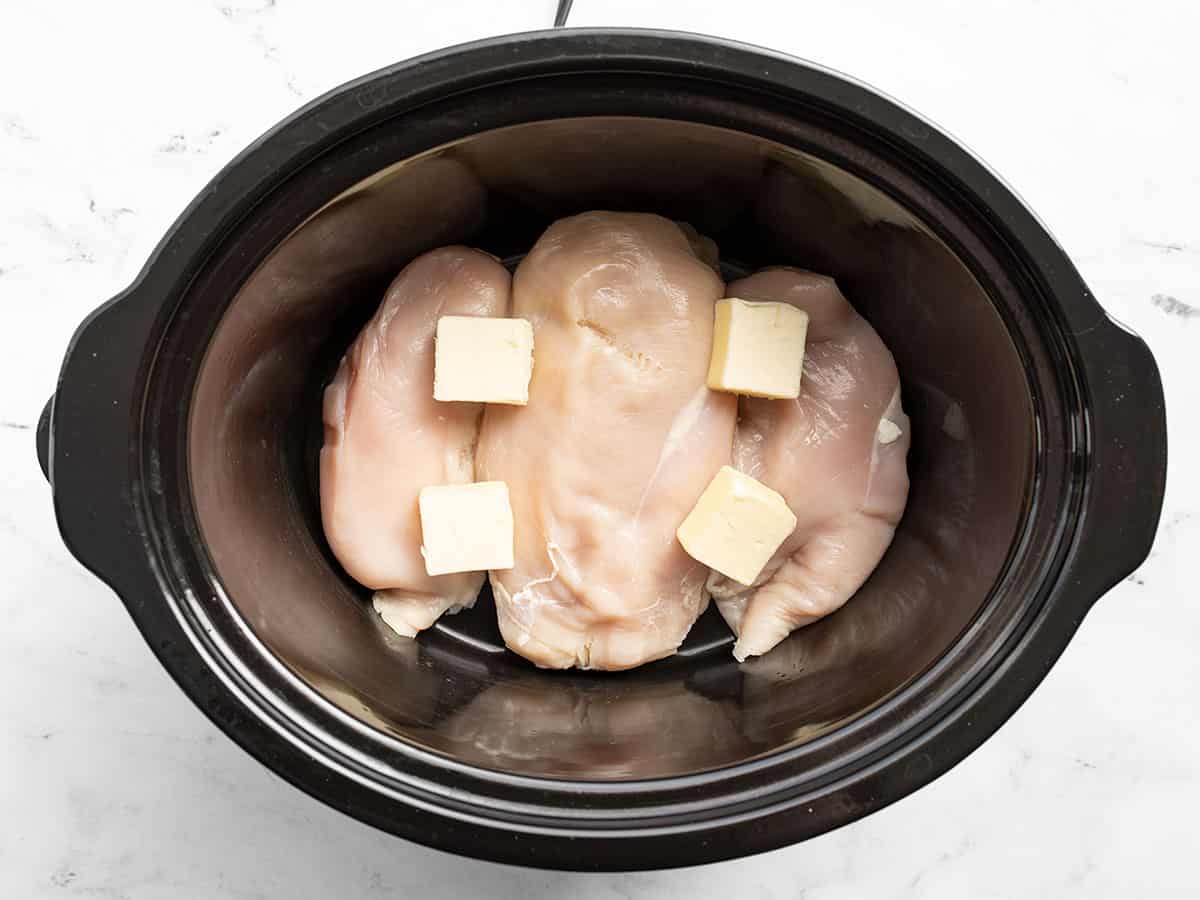 In a slow cooker, place about two pounds of boneless, skinless chicken breasts in the bottom of it, along with 4 tablespoons of butter, that has been cut into chunks, and place them on top of the chicken.In a slow cooker, place about two pounds of boneless, skinless chicken breasts in the bottom of it, along with 4 tablespoons of butter, that has been cut into chunks, and place them on top of the chicken.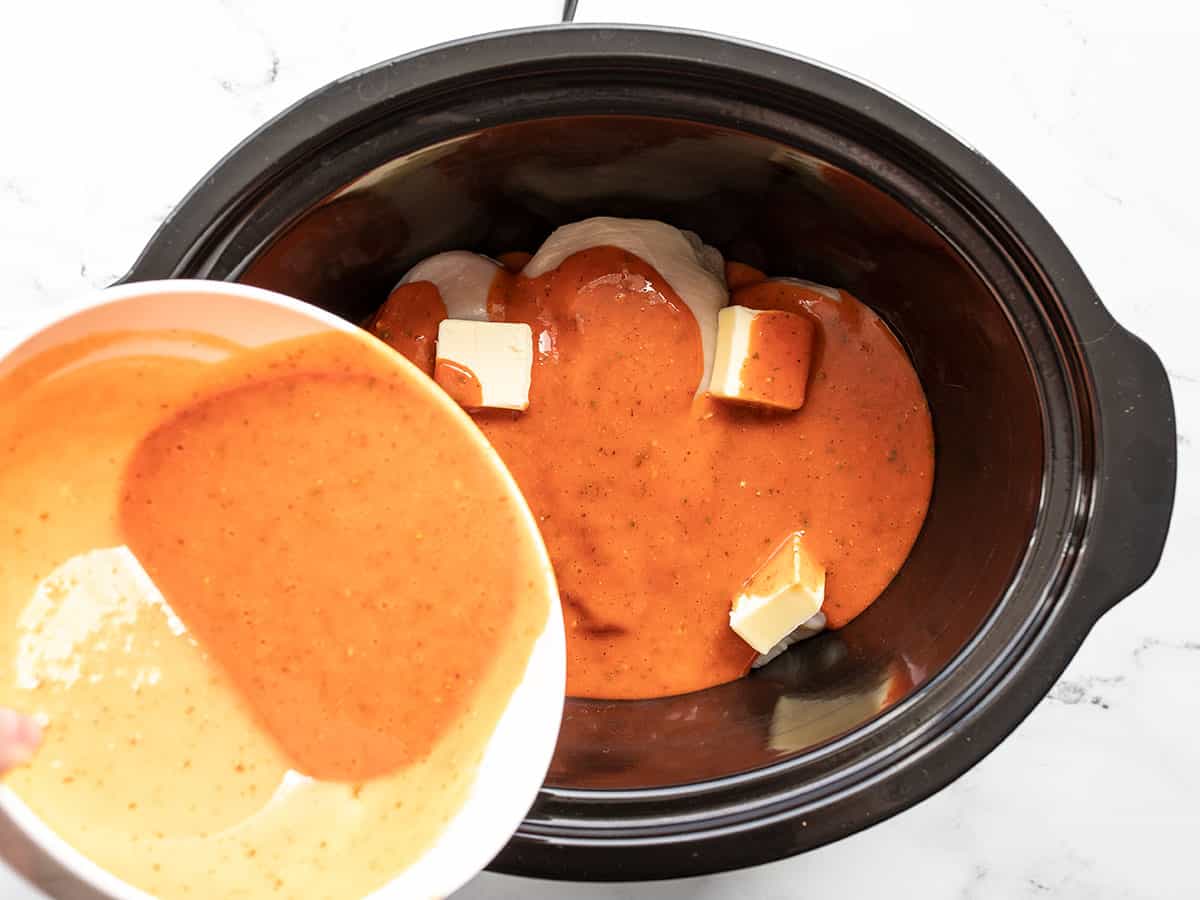 In the slow cooker, mix together the hot sauce mixture and the butter and pour it over the chicken.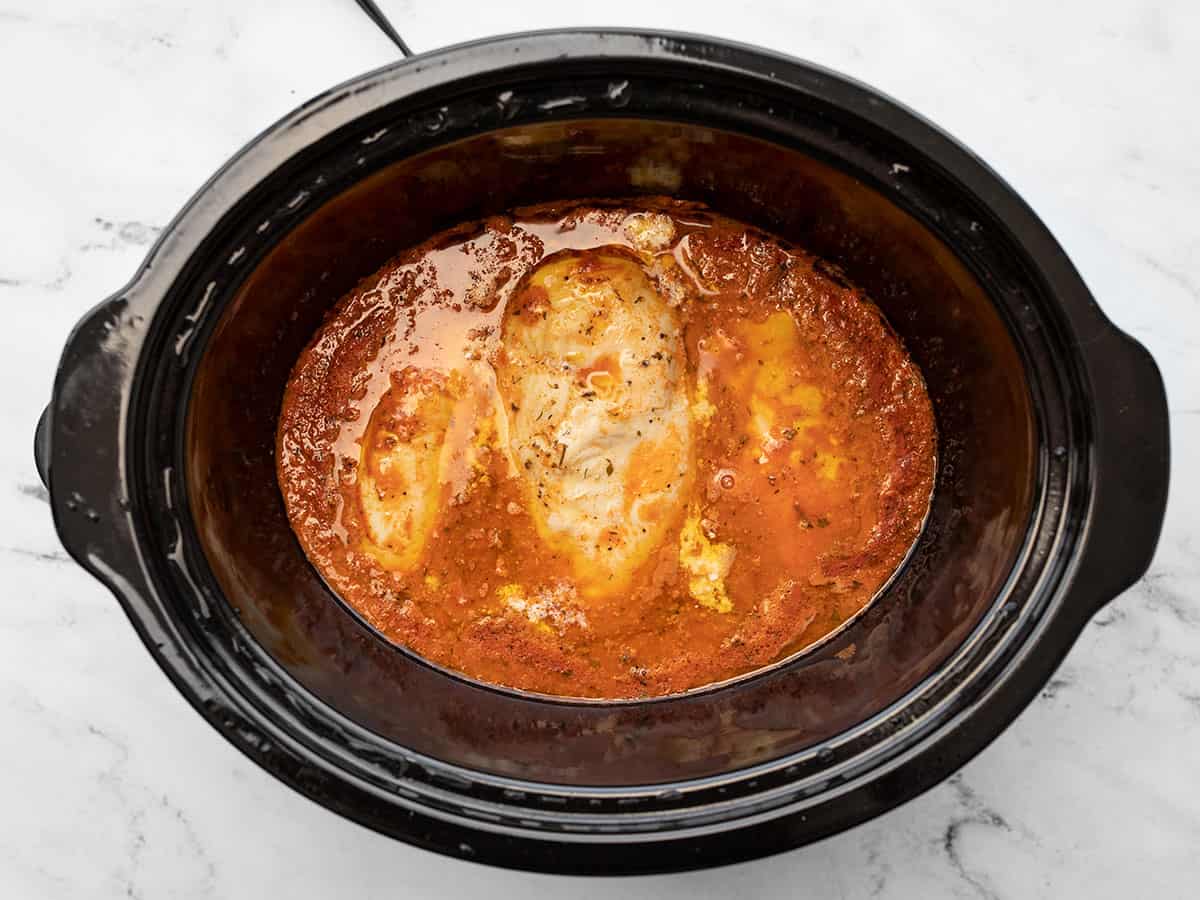 You need to cover the slow cooker with a lid and allow it to cook on low heat for four hours for the chicken to become tender.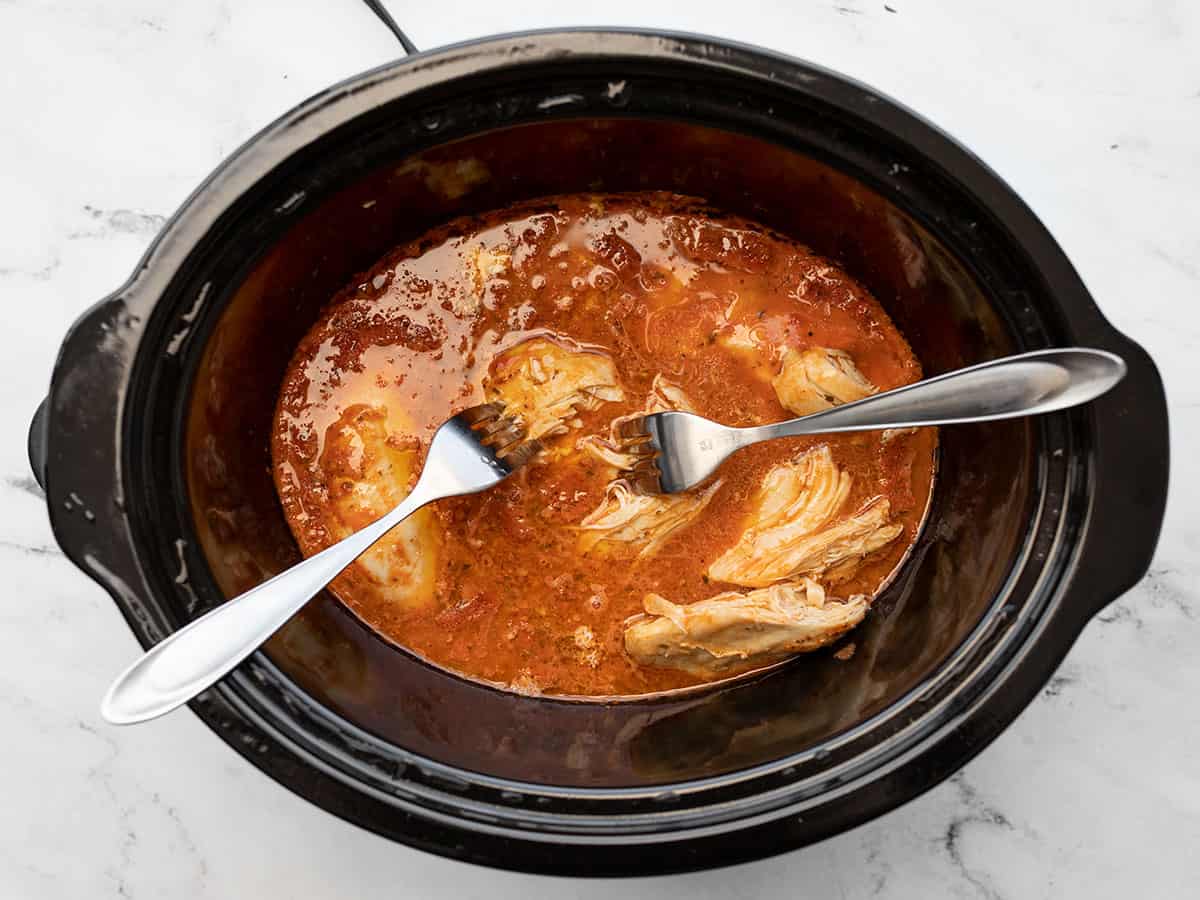 I suggest that you wait until the chicken is tender and easily shreds with two forks after four hours (if it hasn't been cooked to tenderness, let it cook for another 30 minutes).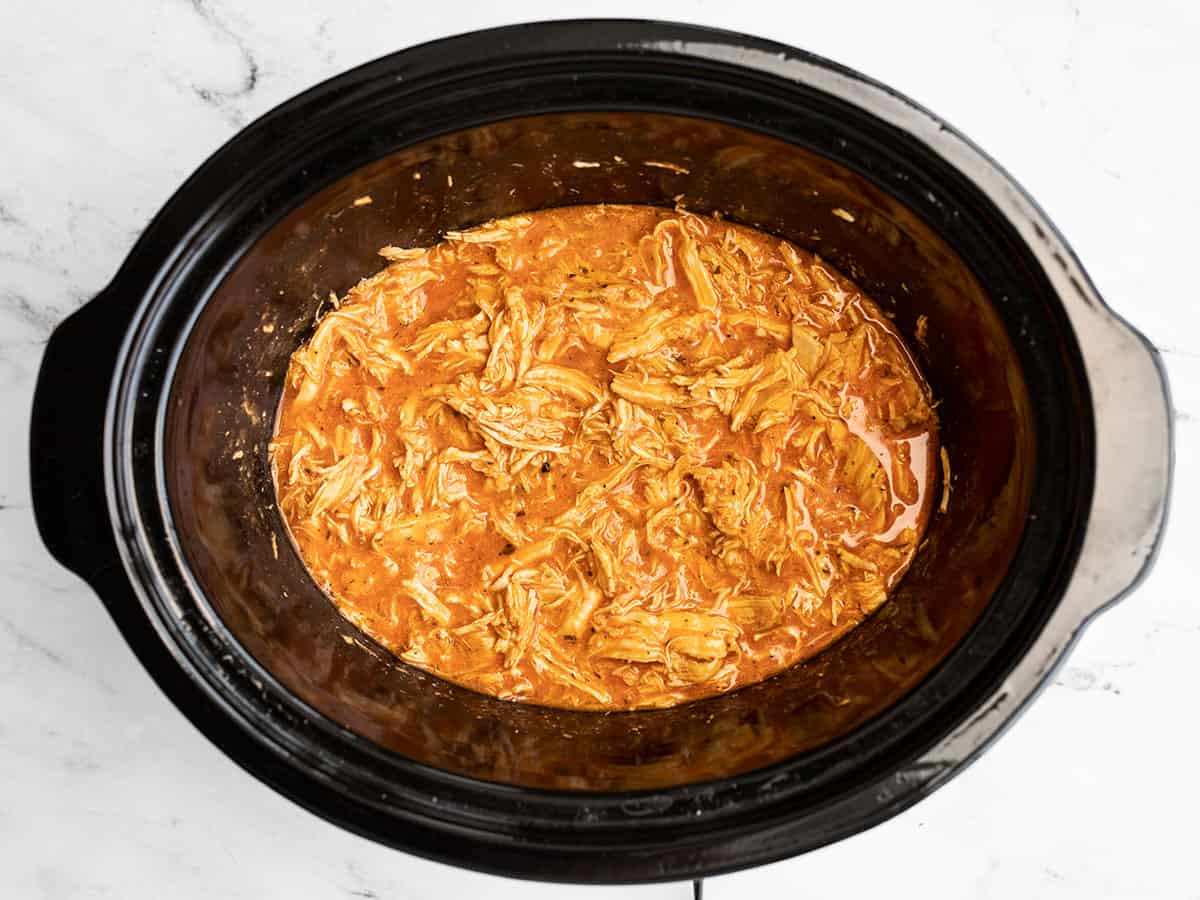 After you have fully shredded the chicken, you are ready to enjoy it!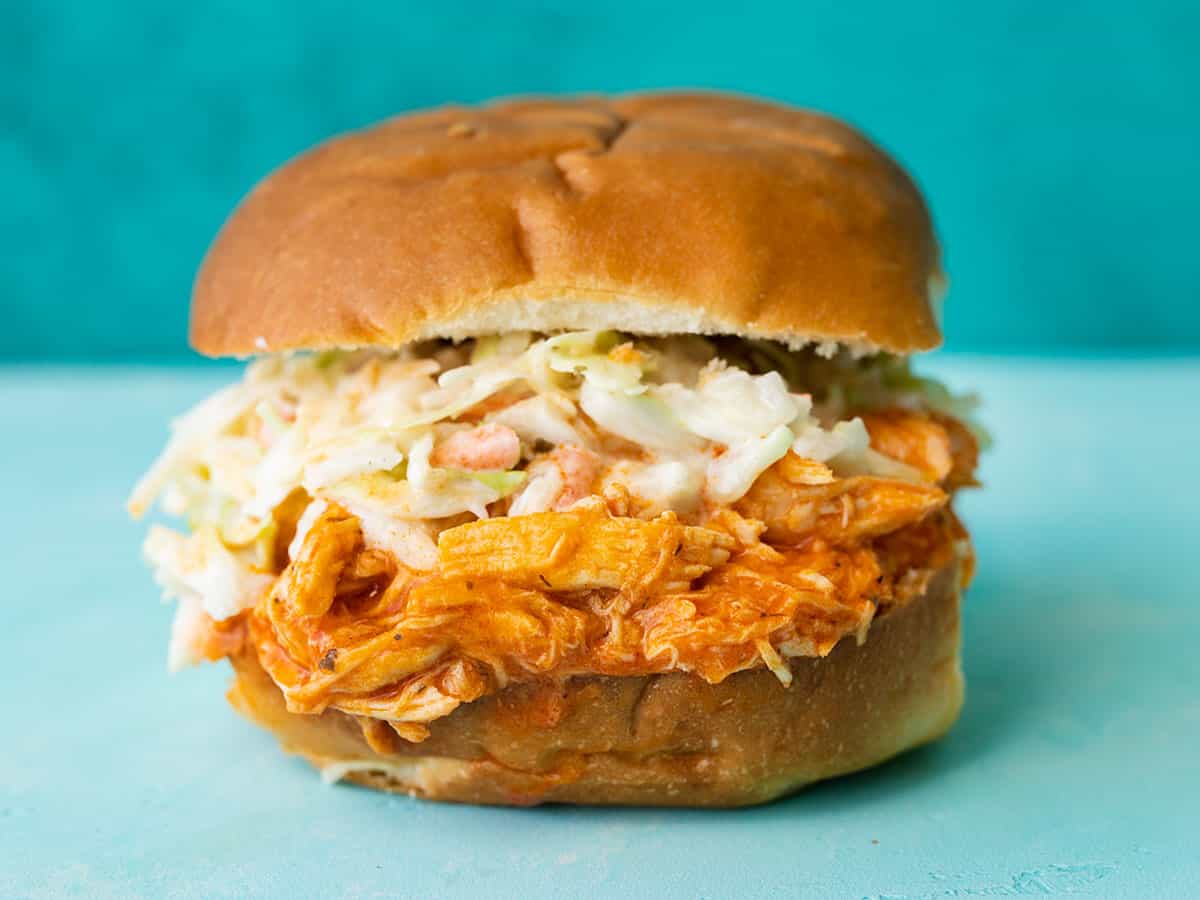 As shown on the photo, it was served on a bun, along with a creamy cole slaw.
Yes, done, now you can enjoy this delicious dish with your family, can you tell Apronese how you made it according to your family's taste in the comments?