As an extremely addicting, spicy, tangy, and rich sauce, buffalo sauce is an absolute must-have when dipping, drizzling, or serving your favorite chicken wings.
And the best part is, it is very easy to make. It just takes four simple ingredients and a few minutes to make a buffalo sauce and you're ready to dip or drizzle it all over your favorite foods.
Apronese believes, it's too easy for your ability, fast and not difficult, you have to try.
Buffalo Sauce: What Is It?
The name of this sauce actually comes from Buffalo, New York, where it is said to have originated, so if you are not from the U.S., you may have a hard time understanding how someone could make a sauce from a buffalo, but do not worry, it is said to have originated in Buffalo.
This is a very tasty recipe that has a simple combination of cayenne hot sauce, butter, and salt. By combining these ingredients, you achieve four major flavor elements of flavor (salt, fat, acid, and heat), creating a dish that is incredibly delicious and almost addictive.
In some recipes, if the recipe calls for it, other ingredients are also added to give the dish even more flavor. For my recipe below, I opted to keep the sauce fairly simple, with just a bit of garlic powder and Worcestershire sauce to give it a little more depth.
How to Choose a Hot Sauce
In traditional buffalo sauce, Frank's Original Redhot Sauce is used. Frank's Original Redhot Sauce is a vinegar-based hot sauce made with cayenne peppers. In spite of this, I have made buffalo sauce with other brands of cayenne hot sauce and they were equally as good, so you can always use a different brand if you wish to save money. Just make sure the cayenne hot sauce you are using is vinegar-based.
Buffalo Sauce Can Be Customized
Honestly, one of the reasons I love this Buffalo sauce recipe is that it can be customized pretty much to your liking. By simply adding one or two more ingredients, you can totally change the direction of the sauce. Here are a few ideas:
Honey or brown sugar to make a sweet-spicy sauce
Smoked paprika for a smokier flavor
Ranch seasoning for a garlic-herb infused buffalo sauce
Roasted garlic for an extra garlicky kick
Cayenne pepper for an extra hot buffalo sauce
Buffalo Sauce: How to Use It
There are many foods that are delicious when seasoned with buffalo sauce, but don't limit it to chicken wings! You can use buffalo sauce on a variety of things, including types of meats and vegetables, and can even use it as a dressing for your favorite salad. Find out what else is tasty when seasoned with buffalo sauce here:
Chicken salad
Egg salad
Meatballs
Hot dogs
Pizza
Scrambled eggs
Nachos
Tacos
Burgers
Mac and cheese
Wrap sandwiches
Baked potatoes
Easy Buffalo Sauce
With only a few minutes of preparation required, this amazing buffalo sauce is ready in just a few minutes and is perfect for dressing up your favorite foods, or dipping them into it for extra flavor.
Author: Beth
Prep Time: 

3

 

mins

/

Cook Time: 

7

 

mins/

 

Total Time: 

10

 

mins
Servings: 6 (makes ¾ cup)
Ingredients
4 Tbsp butter ($0.40)
1/2 cup Frank's Redhot Sauce ($1.26)
1 tsp Worcestershire sauce ($0.02)
1/2 tsp garlic powder ($0.05)
Instructions
When the butter has melted, heat it in a small saucepot over medium heat, then add the remaining ingredients to the saucepot (hot sauce, Worcestershire sauce, garlic powder).
Using a whisk, combine the ingredients. Heat until heated through. Serve hot or refrigerate until ready to serve.
Nutritional
Serving: 2 Tbsp ・ Calories: 69 kcal ・ Carbohydrates: 1 g ・ Protein: 1 g ・ Fat: 8 g ・ Sodium: 690 mg ・ Fiber: 1 g
The nutritional values shown here are only estimates. Please see our nutrition disclaimer.
Equipment
Our equipment section contains affiliate links to products we use and love. As an Amazon Associate, I can earn commissions on qualifying purchases.
Buffalo Sauce: How to Make It – Step by Step Photos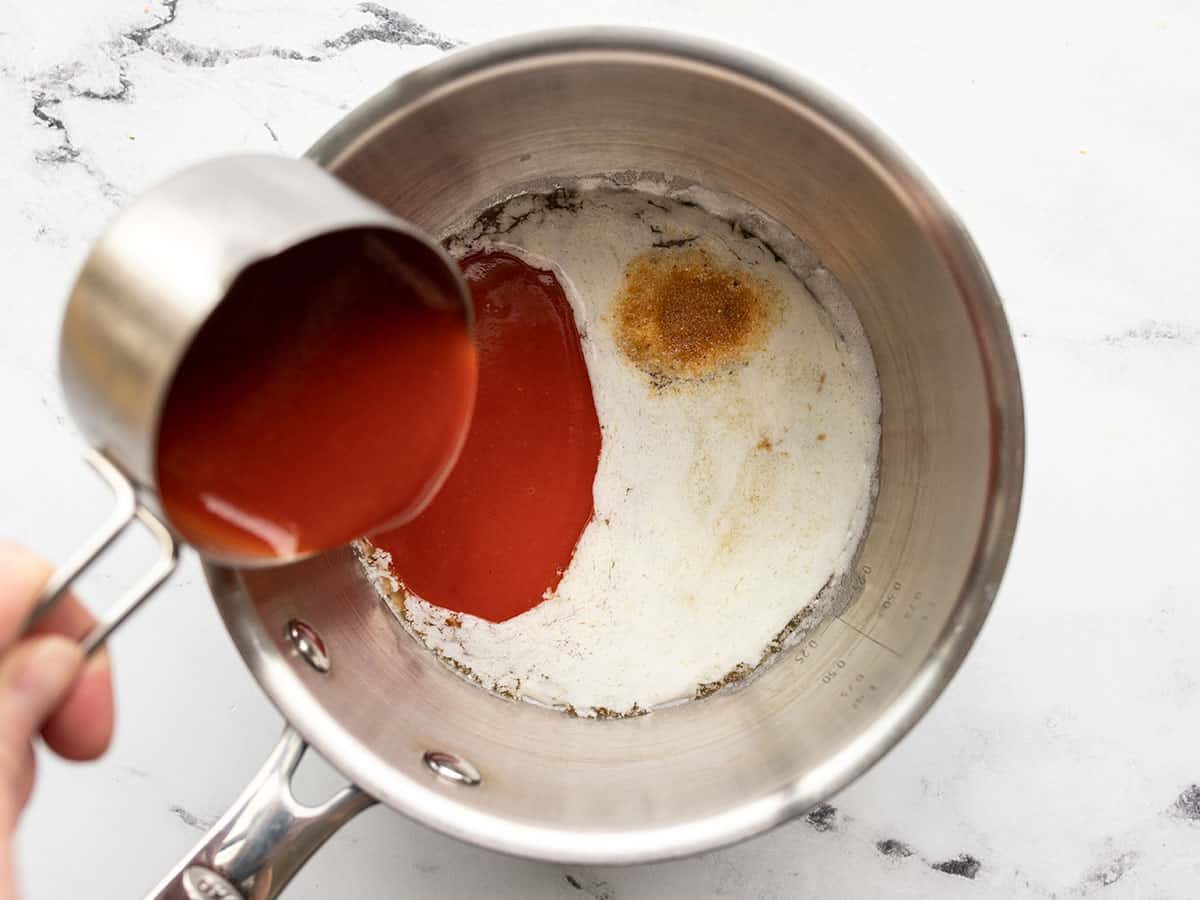 As soon as the butter melts in a small saucepot over medium heat, add 1 1/2 cups Frank's Redhot Sauce, 1 1/2 teaspoons of garlic powder, and 1 1/2 teaspoons of Worcestershire sauce, and stir to mix until well combined.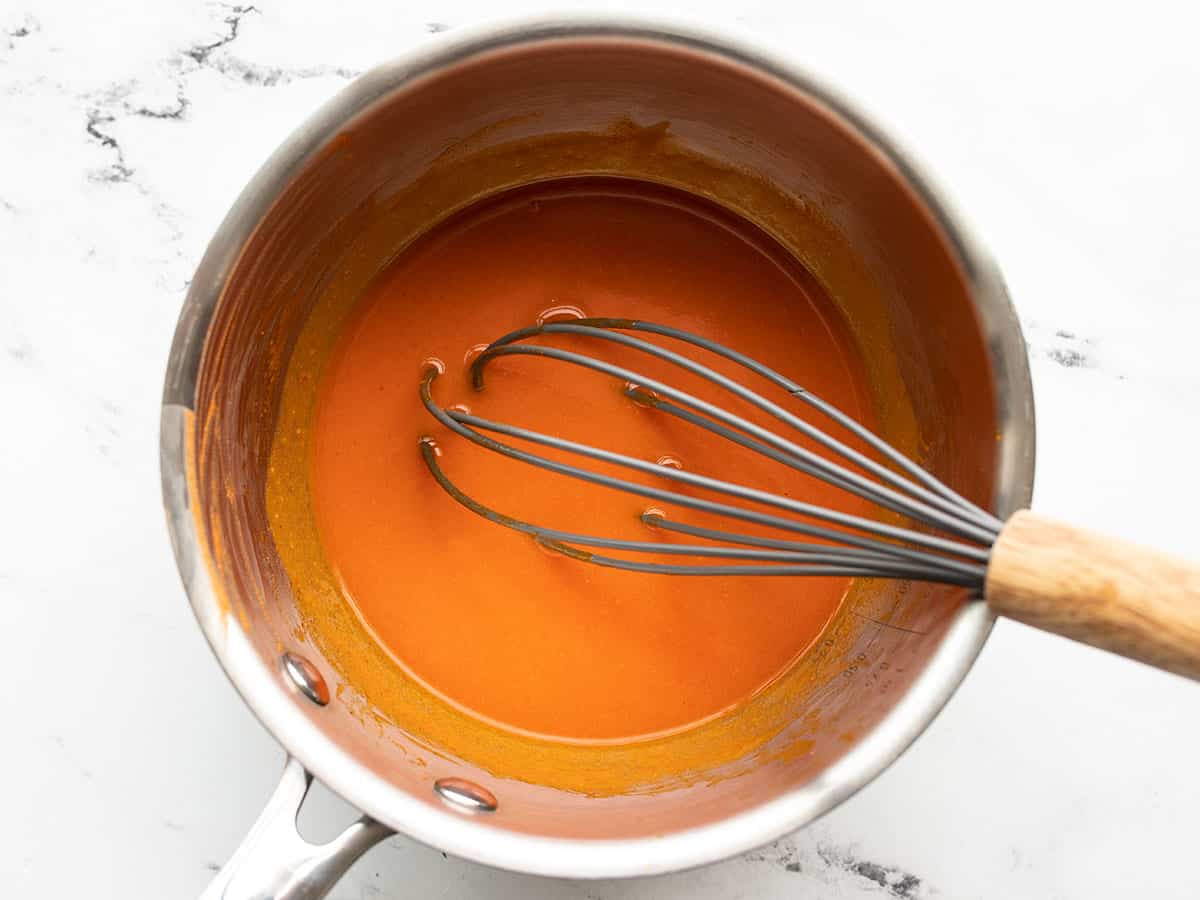 You will need to whisk the ingredients together and cook them for a few minutes.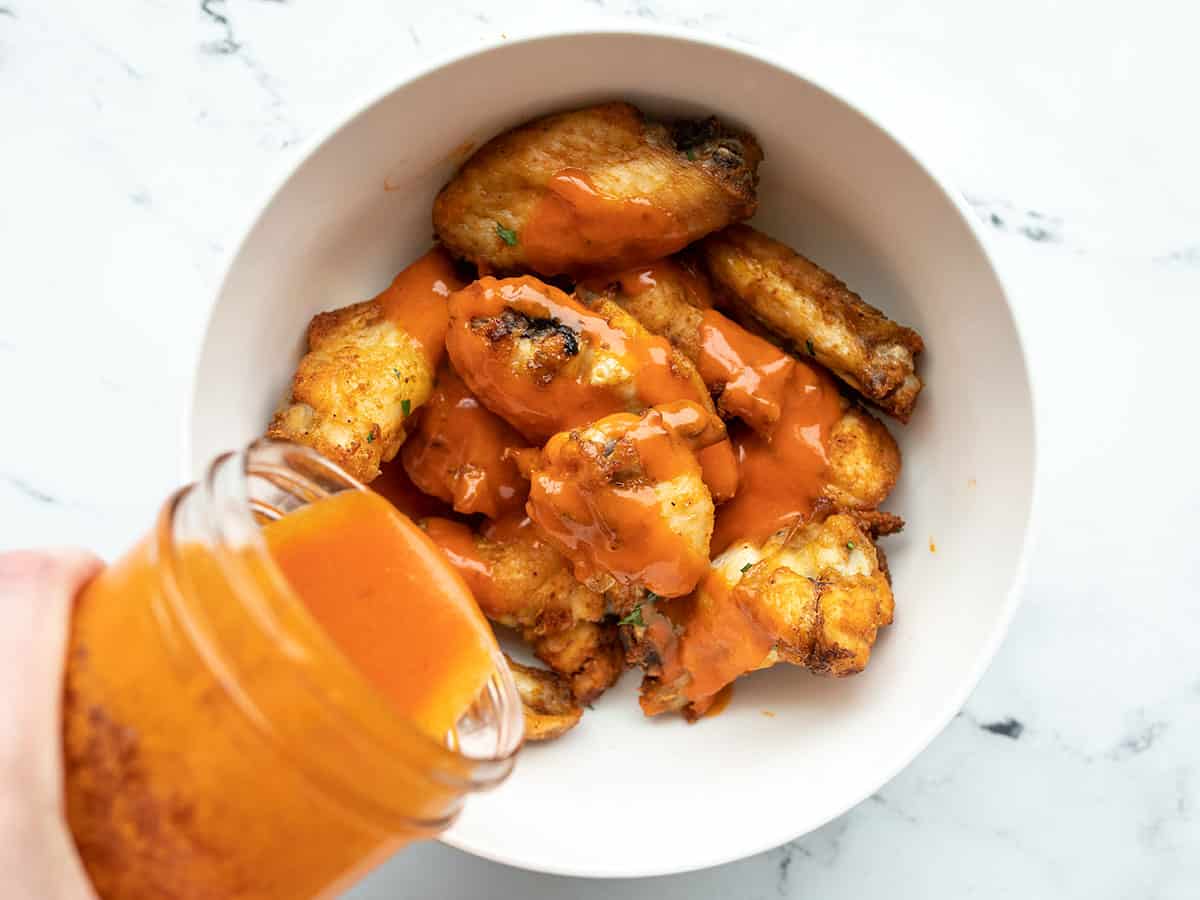 Once the finished sauce is ready, you can dip your favorite foods into it or drizzle it over them (baked chicken wings as pictured above).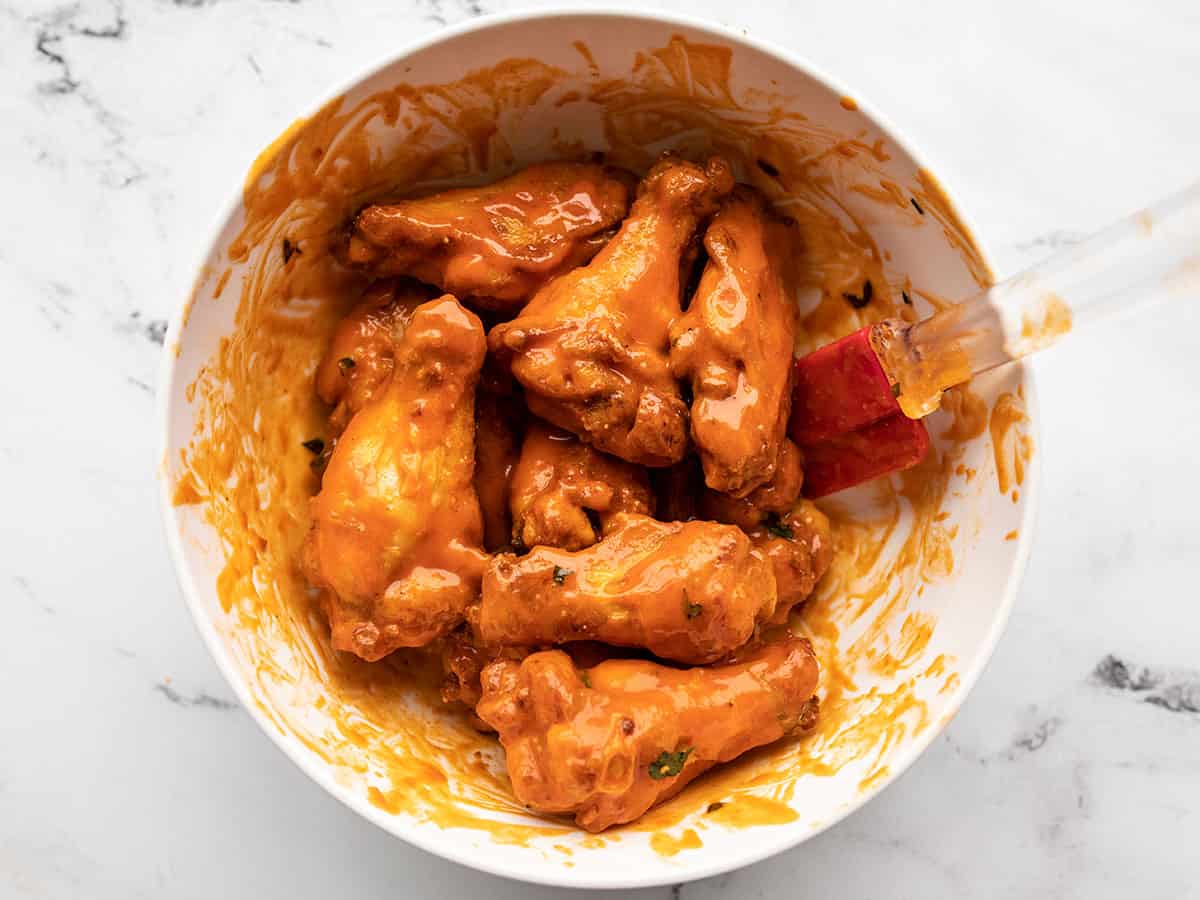 In just a few seconds, this spicy, tangy, rich sauce transforms wings into a snack that is nothing short of addictive.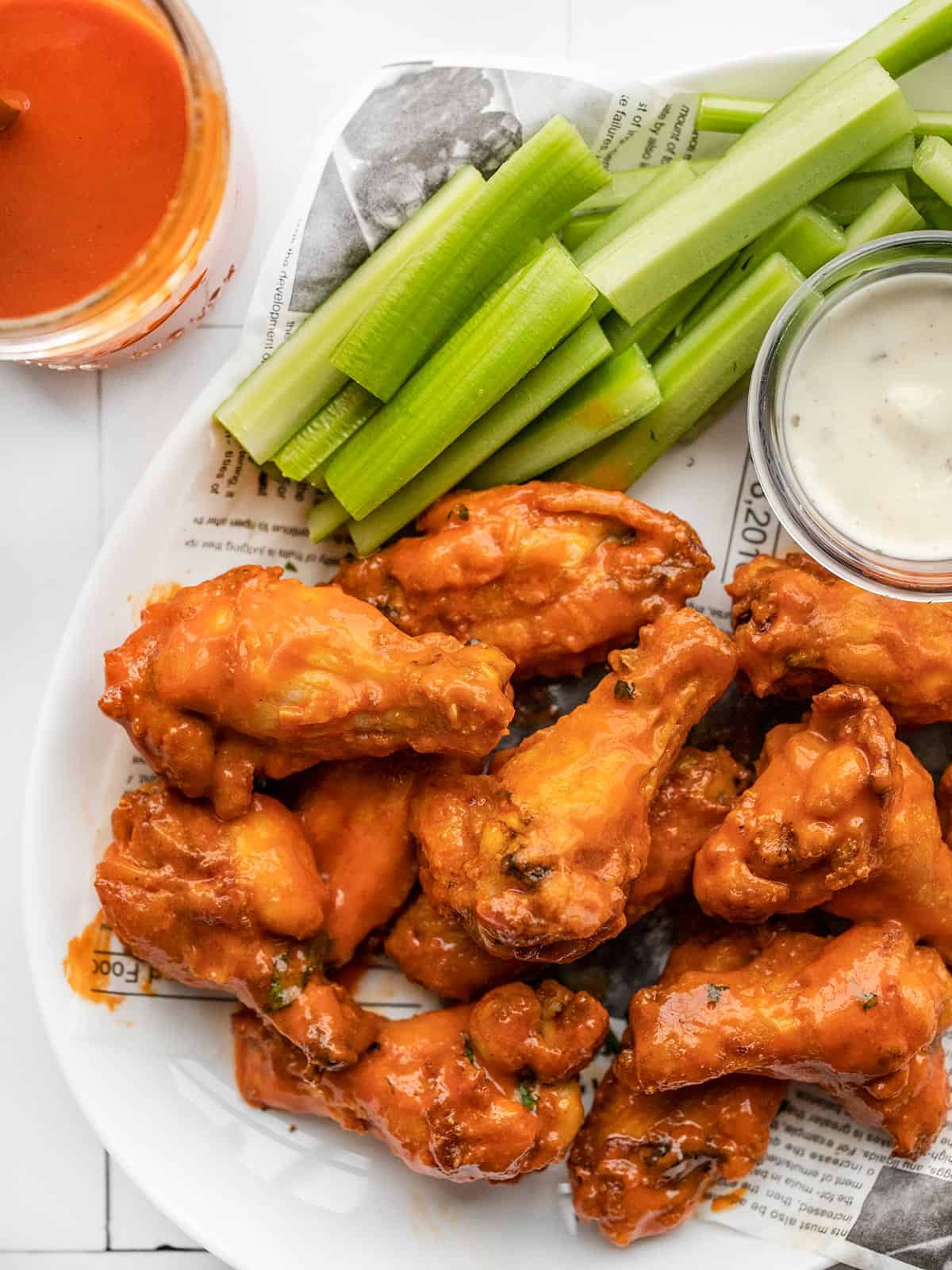 Buffalo sauce, which gives the dish a strange and unforgettable taste, that Apronese must quickly send the recipe to you to make right away. A sauce that combines many dishes from chicken to salads and even cakes. Have you tried it, show everyone how you do it.
If you find this recipe interesting and useful, remember to share it with everyone by writing a comment and tagging your friends in the comment section.