I believe one of the easiest (and also the cheapest) ways to cook a main dish is roasting it. Just add some seasoning, place it in the oven, and you're ready to go. I would like to remind you that you need to be careful to avoid overcooking, which is something we'll discuss in further detail later.
When you avoid this one pitfall, you will be able to get a tender, juicy pork loin that will make an excellent main dish that can be paired with tons of different sides and make it more appealing.
To have this delicious dish, Apronese will try to give you the most detailed and complete instructions on the recipe.
Pork Loin vs. Pork Tenderloin
The pork loin recipe in this cookbook is for the larger pork loin, which is sometimes known as pork loin roast, which is a different meat from pork tenderloin.
The pork loin is generally sold in a three to four pound cut. The pork tenderloin is a smaller and smaller muscle that tends to be a bit darker and tenderer.
Here is a more in-depth look (with photos) at the differences between pork loins and pork tenderloins. If you're looking for an easy recipe for roasted pork tenderloin, make sure to take a look at my Herb Roasted Pork Tenderloin recipe.
About that Brown Sugar Rub…
I have a sweet and spicy brown sugar rub that you might be familiar with if you've made my Glazed Pork Chops. This is a sweet and spicy rub that you'll love! It's the perfect blend of sweet, savory, and spicy, and it's so easy to make.
As soon as it is uncovered in the skillet, it turns into a glaze, but once it is baked in the oven with dry air, it forms a delicious crust on the pork's surface. Regardless of how it is used, it is a winner no matter what.
The Key to Good Pork Loin
I think the main thing is not to overcook pork. The way you cook pork is so important. Overcooked pork is dry, tough, and resembles a hockey puck.
So how do you avoid this? There is a good chance that you will need to purchase a meat thermometer (my favorite is included in the recipe card below), since every pork loin will vary in size and shape, and every oven will cook differently as well.
How Long to Cook Pork Loin
It is recommended that pork (excluding ground pork) be cooked at 145°F internal temperature. As you can see, the estimated cooking time for a pork loin, using the method below, (starting at 400oF and then reducing to 350oF), is about 15 minutes per pound after the initial 10 minutes at 400oF.
After ten minutes of the estimated time, you will need to use your trusty thermometer once again to ensure that you are on track until you reach 145oF. After that, you should check every 10-15 minutes until you reach the estimated time.
In addition to this, once the pork has been removed from the oven, make sure to let it rest for about 10 minutes before slicing.
This will allow the steam pressure in the oven to reduce, meaning more of the moisture in the meat stays in the meat instead of evaporating out after slicing.
Roasted Pork Loin: What to Serve with It
This Brown Sugar Roasted Pork Loin is filled with classic comfort foods like mashed potatoes, roasted broccoli, and a creamy white sauce, but I also think it's amazing with something like macaroni and cheese, collard greens, coleslaw or potato salad, because they are all classic comfort foods.
Brown Sugar Roasted Pork Loin
In this super simple Brown Sugar Roasted Pork Loin recipe, you will end up with a very juicy, tender, sweet and spicy pork loin that will melt in your mouth.
Author: Beth
Prep Time: 
5
mins/
Cook Time: 
1
hr
10
mins/
Total Time: 
1
hr
15
mins
Servings: 8 (½ lb. each)
Ingredients
4 lbs. pork loin ($7.92)
½ cup brown sugar ($0.32)
1 tsp cayenne pepper ($0.10*)
1 tsp garlic powder ($0.10)
1 tsp paprika ($0.10)
1 tsp salt ($0.05)
½ tsp freshly cracked black pepper ($0.05)
3 Tbsp olive oil ($0.48)
Instructions
In a bowl, mix together brown sugar, cayenne, garlic powder, paprika, salt, pepper, and olive oil in a bowl. Increase the oven temperature to 400°F and place the tray in the oven.
In order to make sure that the brown sugar and spice mixture sticks to the surface of the pork loin, you should first place it on a parchment lined baking sheet or in a large casserole dish with the fat cap facing upward. Start by putting the brown sugar and spice mixture all over the pork loin's surface (not the bottom). It is believed that the moisture from the pork loin will make the sugar mixture stick to the surface better.
It is very important that you use a meat thermometer to ensure the internal temperature of the pork loin reaches 145oF before serving. Don't be afraid to use a meat thermometer after the roast has been roasted. It is best to roast it for about ten minutes at 400oF, then reduce the heat to 350oF and continue roasting for about 15 minutes per pound of pork loin.
I would recommend letting the pork loin rest for 10 minutes after roasting it before cutting it into slices of 1/2 inches in thickness and serving it.
*You can reduce the amount of cayenne in this recipe by 1/2 to 1/4 of a teaspoon if you want to reduce the spiciness of it.
Nutritional
Serving: 2 slices ・ Calories: 475.06 kcal ・ Carbohydrates: 7.31 g ・ Protein: 48.15 g ・ Fat: 24.06 g ・ Sodium: 465.2 mg ・ Fiber: 0.2 g
The nutritional values shown here are only estimates. Please see our nutrition disclaimer .
Equipment
Our equipment section contains affiliate links to products we use and love. As an Amazon Associate, I can earn commissions on qualifying purchases.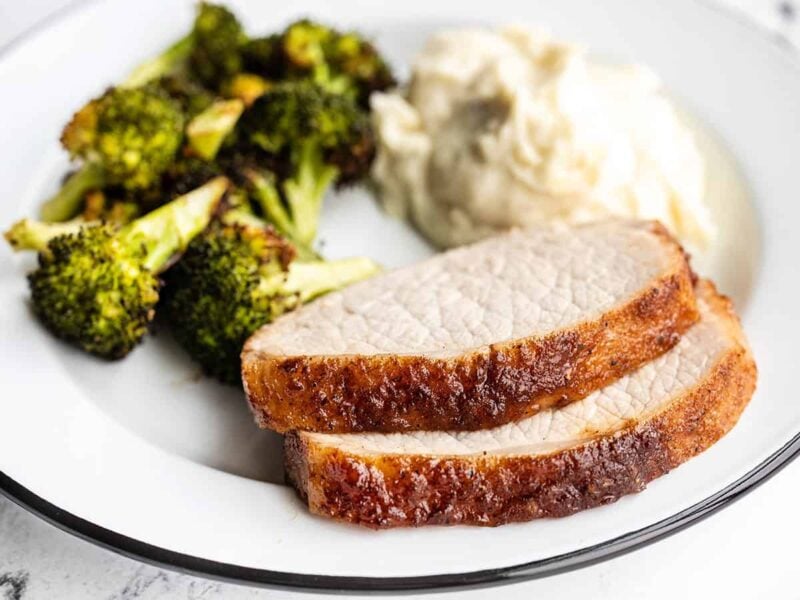 Brown Sugar Roasted Pork Loin Recipe – Step by Step Photos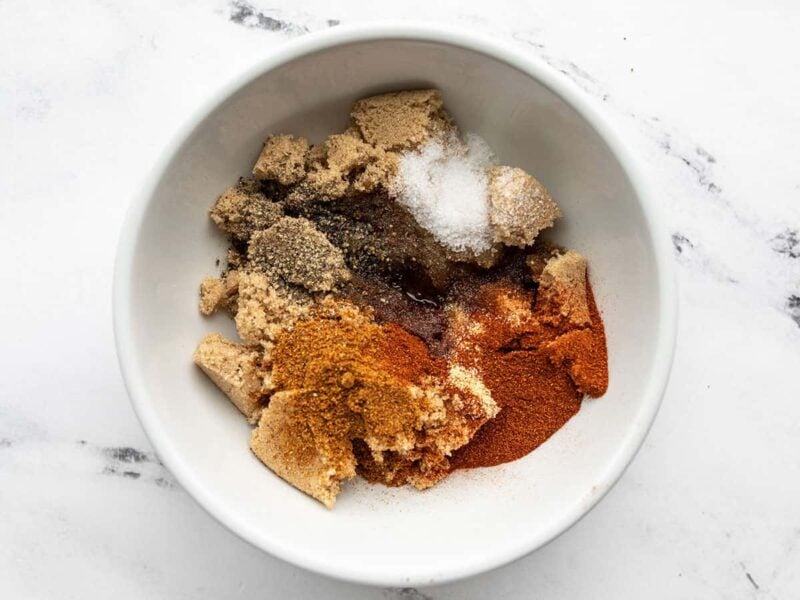 I take the brown sugar in a bowl and add there 1/2 cup, one tsp of cayenne, one tsp of garlic powder, one tsp of paprika, one tsp of salt, and 1/2 tsp of pepper and three tablespoons of olive oil. I then mix it all together until combined well.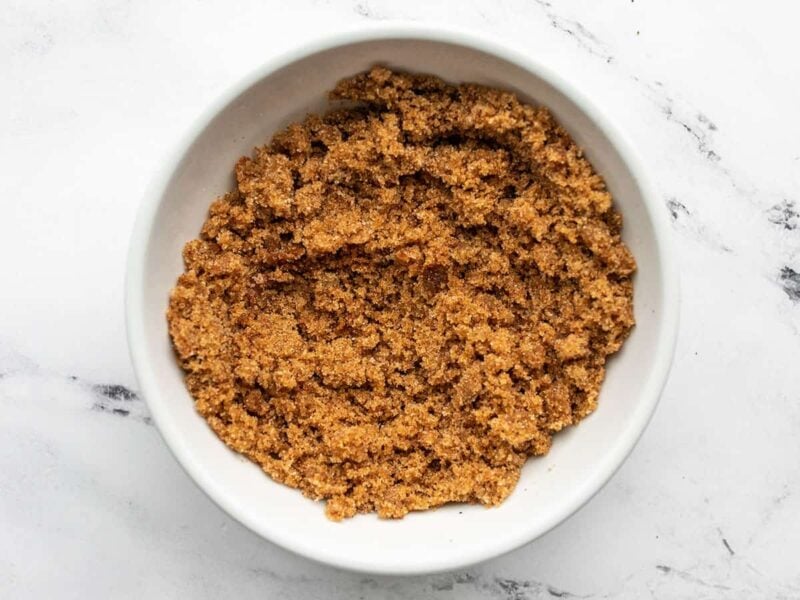 Once all of the ingredients are mixed together until it resembles wet sand, you are ready to use the rub.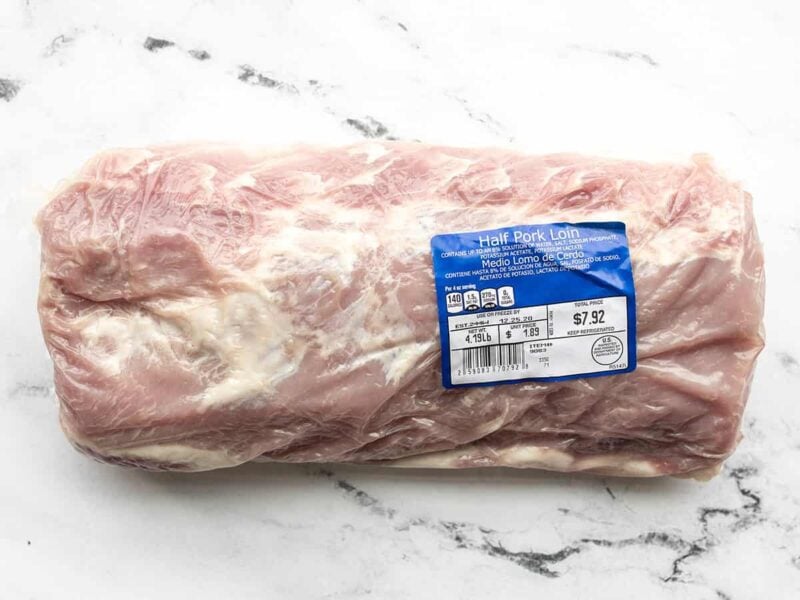 It is important to note that you should use a meat thermometer to prevent your pork loin from over or undercooking. You need to use a meat thermometer when cooking the pork loin, as the cooking time varies depending on how big or small your pork loin is.
In the photo above, you can see that the pork loin has what is called a "fat cap," which is an additional layer of fat on one side (the fat cap is visible on the bottom of the loin in the photo above).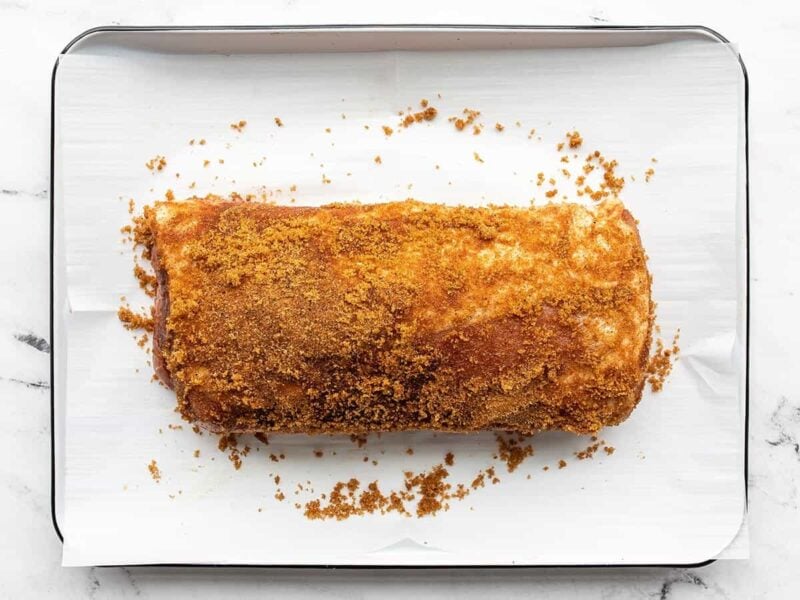 In a rectangular baking dish or on a parchment-lined sheet baking tray, place the pork loin with the fat cap side down, with the rub all over the surface of the pork loin. Bake for 40 to 45 minutes or until the pork is tender.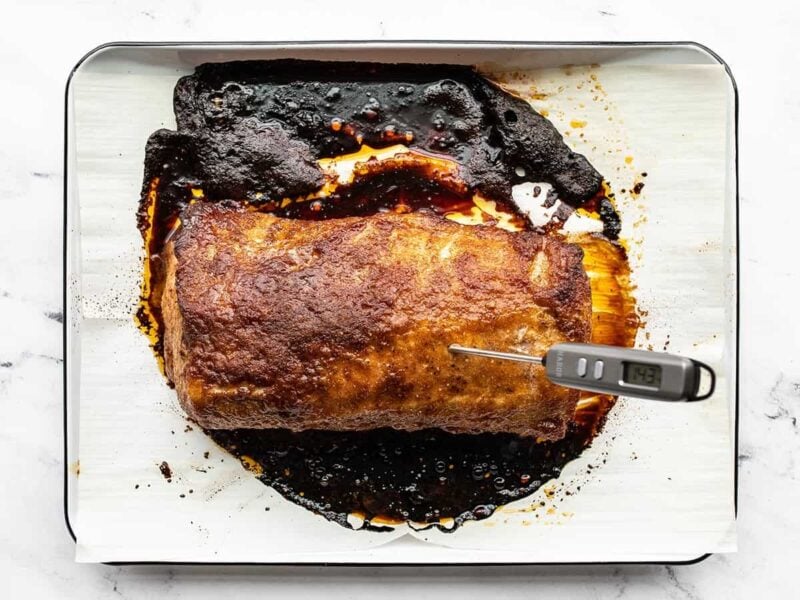 It is important to roast the pork for a minimum of 10 minutes at 400oF, then decrease the heat to 350oF and roast for an additional 15 minutes per pound of pork, or until the internal temperature is 145°F.
After the roast is taken out of the oven, the temperature will continue to rise because of carryover cooking.
It is not important to worry if you burn the brown sugar on the baking sheet, as the rub on the pork will not be burned. The burned sugar can be cleaned up with warm soapy water once it is removed.
In order to serve the pork loin, slices should be cut into 112 inch pieces and the pork loin should be allowed to rest for ten minutes.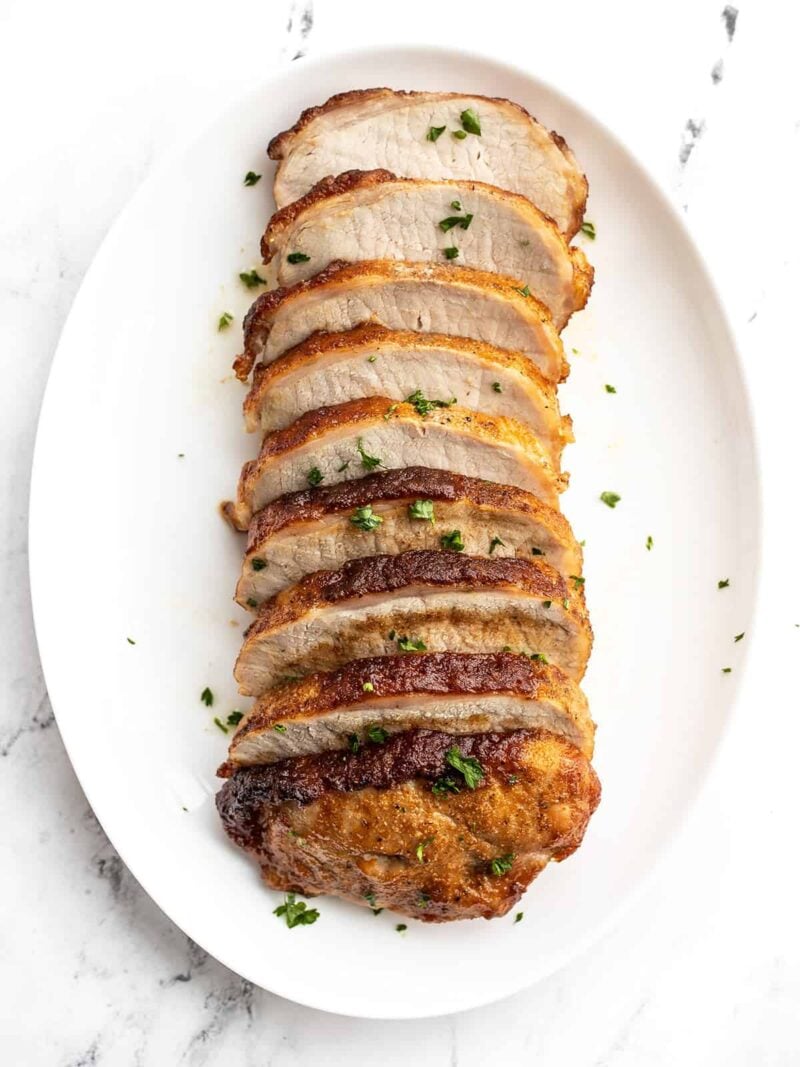 Yes, the pork tenderloin is done and ready on your table, with a delicious aroma and beautiful exterior. Don't hesitate to share with Apronese that you're craving it too.
Start working now and share your impressions in the comments section.