You still need an impressive recipe for your next party, and this roasted pork herb tenderloin recipe is just right for you, even if you don't quite have the kitchen skills to impress.
Honestly, it is so easy to make, and it's pretty much foolproof. You just mix up some garlic, herbs, and oil, smear it on the pork, and throw it into the oven.
That's it. That's it. It really is that simple.
Let's discover this recipe together with Apronese.
Pork: What Herbs Go Best With It?
Like chicken, pork is a very mild meat, which means that it can be combined with a variety of herbs and spices to enhance its flavor.
In this recipe, I used a classic blend of basil, thyme, and rosemary that can be used for all kinds of meat seasonings, including chicken, beef, and even seafood.
A little bit of garlic was added to give it some body as well as a bit of black pepper to add to it. If you feel that it needs to be taken to the next level, you can even add some crushed red pepper to the mix.
It is also very important to point out that salt is an essential element when it comes to seasoning this pork. When you do not have the correct amount of salt, you will not be able to taste the full flavor of the herbs. So don't cut corners on salt!
How Do I Know the Pork Tenderloin is Done?
In order to prepare meat, you will need to know that it has a slightly different size and requires a slightly different amount of time to cook. In my opinion, the best way to get rid of the guesswork associated with cooking meat is to use an instant read meat thermometer.
I use this digital thermometer, which is a very affordable product and is one of my first kitchen tools. I currently use this digital thermometer.
The temperature should read at least 145oF when your pork tenderloin is done. It is best to insert your digital thermometer in the thickest part of the tenderloin when testing for doneness.
If you would like to read more about safe cooking temperatures for pork, click here. I prefer my tenderloin cooked to about 155oF (don't judge me).
What Cut of Pork is Best for This Recipe?
As originally written in the recipe, the pork loin was used, but I have revised it to use the pork tenderloin. Although they have similar names, they are really two different muscle groups with a very different purpose.
Pork loins are quite large and quite tough in comparison to the small, tenderloin muscles that are comparatively lighter.
I definitely recommend using pork tenderloin in this recipe as it is more tender and delicate. In the event that you fall in love with the same pork loin, you should keep in mind that if it is larger than 1.5 pounds, as most pork loins are, it will need to be cooked for a longer period of time (and will likely require more herb rub).
It is common to find pork tenderloins in packs of two. If you wish to make this recipe twice, make sure to not overcrowd your dish with too many cuts of meat.
If you wish to freeze one tenderloin, you can do so for the next time you enjoy roast pork!


My pork was served with a little parsley garnish on top and then paired with my Balsamic Roasted Vegetables.
If you want, you can also make some balsamic glaze to drizzle over top. I think the pork would be great with something like Baked Barley with Mushrooms or some Wild Rice Pilaf on the side to accent the flavor.
Herb Roasted Pork Tenderloin
In contrast to the aromatic poultry and lamb dishes, this herb-roasted pork tenderloin works just as well for weeknight dinners as it does for special dinner guests. It is flavorful, simple, and elegant all the way to the end.
Author: Beth
Prep Time: 
10
mins/
Cook Time:
35
mins/
Total Time:
45
mins
Servings: 4
Ingredients
2 cloves garlic ($0.16)
1 tsp dried basil ($0.10)
1 tsp dried thyme ($0.10)
1 tsp dried rosemary ($0.10)
freshly cracked black pepper ($0.05)
1/2 tsp salt ($0.02)
2 Tbsp olive oil ($0.32)
1.33 lbs. pork tenderloin ($4.68)
Instructions
As soon as you have heated up the oven to 400 degrees Fahrenheit, mince the garlic. Put the dried basil, thyme, and rosemary in a small dish. Use your hands to crush down the dried rosemary slightly. Add the garlic, olive oil, salt, and a good amount of freshly cracked black pepper to the bowl and stir to combine.
If you would like the pork tenderloin to become crispier and more tender, you need to place it on a baking sheet or baking dish. Rub the oil and herb mixture over the entire surface of the pork, including the underside.
.As soon as the baking dish is in the preheated oven and the pork has been placed in it, place it in the oven and roast the pork for about 35 minutes or until the internal temperature reaches at least 145 degrees Fahrenheit. Allow the pork to rest at room temperature for 10 minutes before serving it.
Nutritional
Serving: 1 Serving ・ Calories: 280.1 kcal ・ Carbohydrates: 2.1 g ・ Protein: 28.6 g ・ Fat: 17.53 g ・ Sodium: 828.3 mg ・ Fiber: 0.3 g
The nutritional values shown here are only estimates. Please see our nutrition disclaimer .
Equipment
Our equipment section contains affiliate links to products we use and love. As an Amazon Associate, I can earn commissions on qualifying purchases.


It has truly been a pleasure to use my Herb-Roasted Pork Loin and Balsamic Roasted Vegetables for meal prep this week! Both of these reheat really well, too.
How to Make Herb Roasted Pork Tenderloin – Step By Step Photos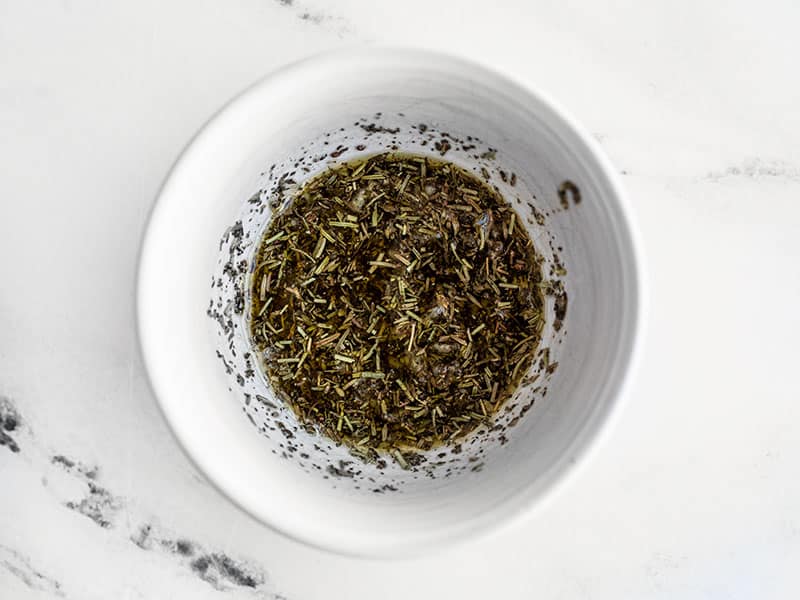 If you would like to make this dish, preheat the oven to 400oF. Mince two cloves of garlic. To the bowl, add 1 tablespoon of dried basil, 1 tablespoon of dried thyme, and 1 tablespoon of dried rosemary. Use your hands to crush the herbs as you do so.
To the bowl filled with the herbs, add 2 tablespoons of olive oil, 1/2 teaspoons of salt, and a pinch of freshly cracked black pepper. Stir the ingredients together well.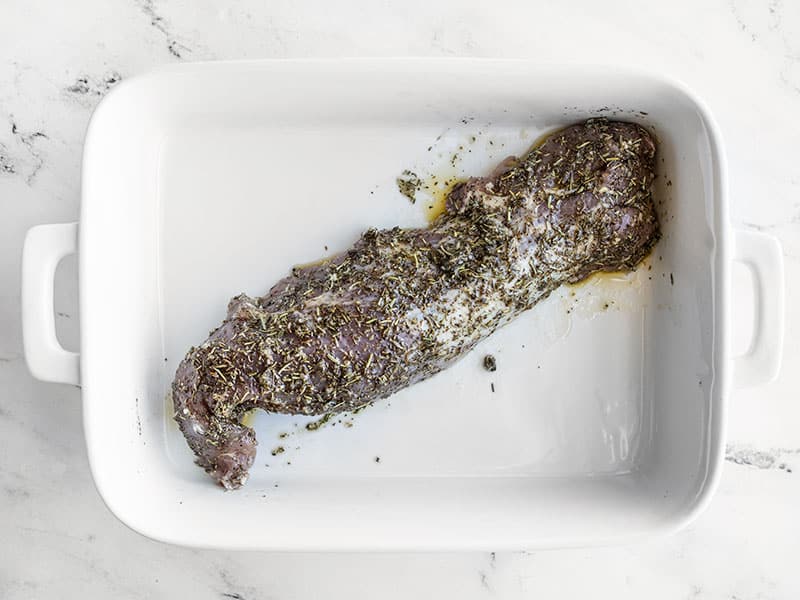 On the surface of a 1.3-1.5 lb. pork tenderloin, drizzle the garlic herb oil mixture evenly over the surface and bake in a baking dish or bake on a baking sheet for approximately 25 minutes.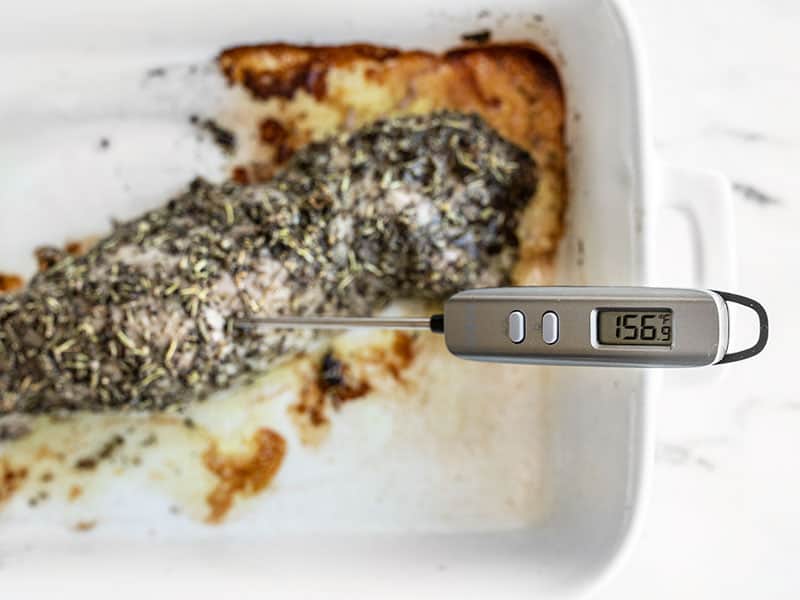 I prefer that the pork tenderloin is roasted at about 155°F (the temperature in the oven should not be higher than 145°F for best results).
Roasting time will vary depending on the size of the tenderloin and the size of your oven, so make sure to use a meat thermometer for best results.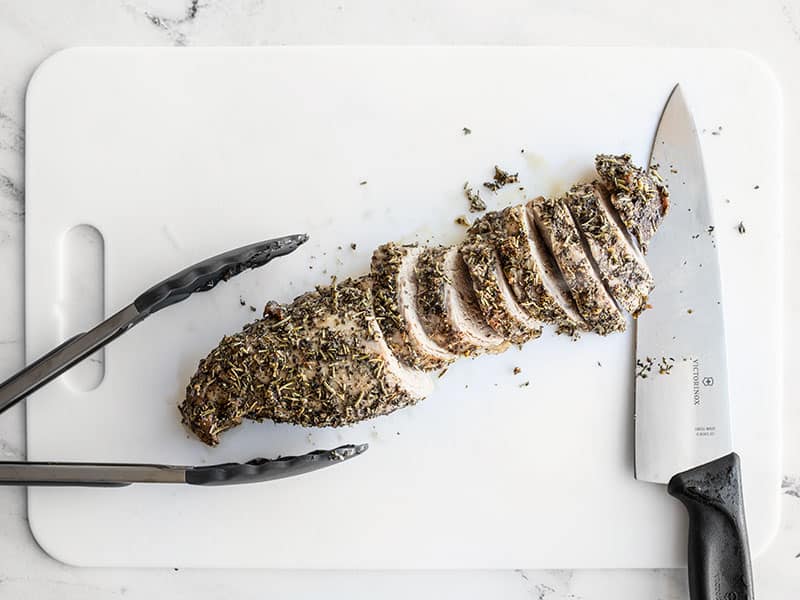 If you would like to serve the pork sliced and with a side of vegetables, let it rest at room temperature for about 10 minutes before slicing (this will help keep it moist).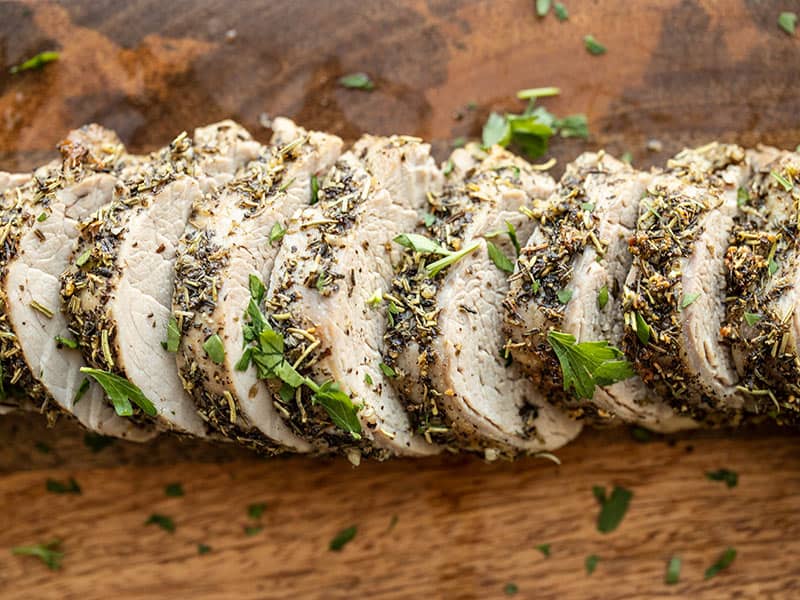 I love how juicy, herbaceous, and delicious it is!
This is an easy recipe to make as well as easy to find ingredients, and the results are amazing. Apronese thinks that you don't need to hesitate anymore, go buy pork and start working right away.
Remember to share your results in the comments section.